Welcome and enjoy our offers in:

español

deutsch

english or use our automatic translation tool:
---
2-DAY-CLIMB CAYAMBE (5.790 m / 18,996 ft)
---
Cayambe is Ecuador's third highest mountain and the highest and only snow covered point on the Equator. The tour can include minor technical challenges and offers absolutely stunning and impressive surroundings with very active glaciers as well as breathtaking crevasses. Good acclimatization, fitness and some previous mountaineering experience are recommended.
The tour can be arranged for any day.
starting points & pick up:
Baños, Riobamba, Ambato, Machachi or Quito
DAY 1 - Refuge Ruales Oleas Berge:
You will be picked up in the morning at one of our pick up points. Then we have a quite extensive drive up to the parking area near the Refugio Ruales Oleas Berge (approx. 4.700 m - 15,420 ft). The afternoon offers some time for exploring the surroundings and after an early dinner it is time for rest.
DAY 2 - Summit Day Cayambe:
Depending on group size and weather conditions we start the ascent to Cayambe around midnight. After 6 - 7 hours you will reach the summit. The descent to the hut takes another 3 - 4 hours. On the way back you will enjoy lunch in a restaurant and you will get back to the starting point in the afternoon.
our package includes:
- transportation
- ASEGUIM / UIAGM mountain guide
- park entrance fee
- accommodation
- food & beverage
upon request:
- climbing equipment
- download checklist for equipment
price:
Prices depend on group size and services included. Please contact us for your individual offer.
Or check our offers for fixed departures.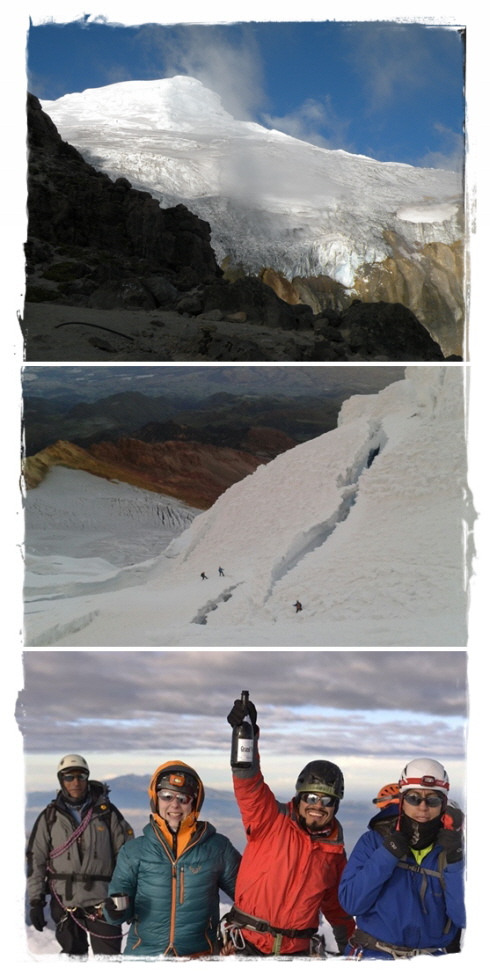 ---

---
Cayambe, Ecuador's new Cotopaxi
Since Cotopaxi has been closed in August 2015, the most popular climb in Ecuador is Cayambe. Before that, the mountain was less frequented, as Cotopaxi got all the attention and the weather is also slightly more stable on Cotopaxi than Cayambe. Nevertheless, Cayambe is a great climb in Ecuador and definitely worthwhile!
Glacier training for preparation and acclimatization
Altough also on Cayambe the reduction of its glaciers is ongoing, this mountain still has one of the best glaciers for training purposes. Only a few minutes' walk from the hut you have access to stunning ice formations, which are a perfect terrain for training. Even the local mountain guide association ASEGUIM performs many of its ice courses on Cayambe.
So the options are numerous. You can go for a basic glacier training in order to get prepared for your climb. This contains everything you need to know about your equipment and includes the most common walking techniques, which you will surely apply during your climb.
As the walls are quite impressive and of a remarkable size, also training for ice climbing routes or more technical climbs can be arranged. Working with ice screws, arranging belay stations with abalakovs, techniques for abseiling and much more can be part of your training.
And last but not least rescue and security trainings - a very important topic not only, but mainly for experienced climbers. How can you get somebody out of a crevasse? How can you get yourself out of a crevasse? What can you in a group do for prevention of accidents? How do you deal with accidents on the mountain? What are things which are essential in your first aid kit / back bag? Those and many more questions will be answered during a rescue and security training.
So considering an additional day before your climb is a great option for further acclimatization and for enlarging and updating your mountaineering knowledge and experience.
In our acclimatization section you find these options. For further information, please feel free to contact us.
---