Welcome and enjoy our offers in:

español

deutsch

english or use our automatic translation tool:
---
2-DAY-CLIMB CHIMBORAZO (6.263 m / 20,549 ft)
---
Chimborazo is Ecuador's highest mountain and it is the point on earth, which is closest to the sun. The glacier tour to one of the four summits is long and includes technically tricky parts. Therefore good acclimatization, fitness and some previous experience are required.
The tour on the normal route can be arranged for any day.
Availability of alternative routes depends strongly on the conditions of the mountain.
starting points & pick up:
Baños, Riobamba, Ambato, Machachi or Quito
DAY 1 - Refugio Carrel:
You will be picked up in the morning at one of our pick up points. Then we drive up to the parking area in the Reserva de Producción de Fauna Chimborazo, which is close to the Refugio Carrel (approx. 4.800 m - 15,748 ft). Here we spend our night as Refugio Whymper is still closed. After an early dinner it is time for rest.
DAY 2 - Chimborazo Summit:
Depending on group size and weather conditions we start the ascent to Chimborazo around midnight. After 8 - 9 hours you will reach one of the summits (Veintimilla - 6.230 m / 20,439 ft or Whymper 6.263 m / 20,549 ft). The descent to the hut takes another 3 to 4 hours. On the way back you will enjoy lunch in a restaurant and you will get back to the starting point in the afternoon.
our package includes:
- transportation
- ASEGUIM / UIAGM mountain guide
- park entrance fee
- accommodation
- food & beverage
upon request:
- climbing equipment
- download checklist for equipment
price:
Prices depend on group size and services included. Please contact us for your individual offer.
Or check our offers for fixed departures.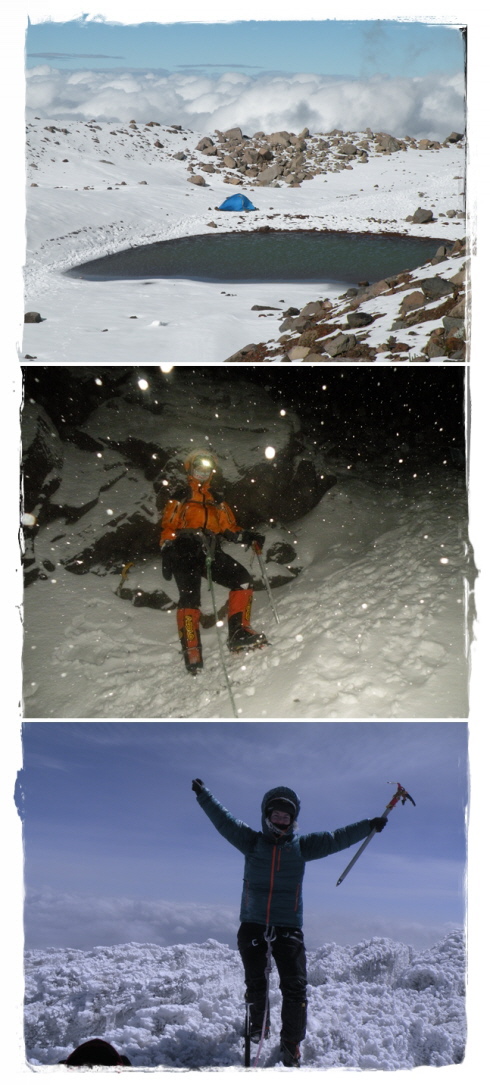 ---

---
How to climb the world's highest mountain?
Chimborazo is the world's highest mountain? Indeed, it is - measured from the center of the earth. The 2016 mission to measure and confirm this fact was successful & Ecuador is very proud to be home of Chimborazo the highest point on earth. Latest measurement's result is an official height of 6.263 m / 20,549 ft - on Whymper summit.
Compared to the Himalaya peaks, Chimborazo is a very affordable option for high altitude mountaineering and therefor also known as the Everest of the poor people. There are several routes or approaches to reach the summit of this wonderful mountain.
Normal Route - Chimborazo
Get started by driving up by car to the refuge Carrel (4.800 m / 15,748 ft). There you spend the night before the climb. The route which is then selected depends on snow and wind conditions - if everything is fine you can take the "corredor" for a quick access to the mountain, facing 1.500 m (4,900 ft) in elevation gain to the summit. If there is only little snow and a lot of wind your guide might choose the longer way via the ridge to the "castillo".
High camp on castillo - normal route
In order to avoid a 1.500 m (4,900 ft elevation gain) climb in one day a high camp at the "castillo" - around 5.300 m (17,388 ft) is possible. This means that camping equipment has to be carried up for all participants - we recommend to foresee a porter for making it a comfortable climb.
Stübel Glacier - Chimborazo
As a 3rd version the mountain can be approached via the Stübel glacier with a camp at approx. 5.100 m (16,732 ft) - also here it's recommendable to book porters for a smooth access from the parking lot at the refuge Carrel to the camping site.
In our section for experts you find another 4th option which leads you via the South Face of Chimborazo directly to the Whymper summit, a very beautiful option, which is only possible with good conditions and a certain level of experience of participating mountaineers.
Below a picture taken during the ascent via the normal route.
---