Welcome and enjoy our offers in:

español

deutsch

english or use our automatic translation tool:
---
ECUADOR AND GALAPAGOS ROUNDTRIP WITH PHOTOGRAPHY TOUR
---
7, 11 and 17 days itineraries available!!!
---
Join us in our passion for photography and nature - FROM January 28 - February 13, 2019. In a strategic alliance together with suitcase and wanderlust we launch this very special tour through Ecuador's highlands and the islands of Galapagos. We have selected only the best of Ecuador for you. Breath taking themes await you, while your guides will assure you get top notch information as well as best photo coaching for long lasting memories.
During this 17 days itinerary we discover first the best of Quito and its surroundings before we head north for getting started with the marvellous sites in our national parks and protected areas. Nature, indigenous people, markets, cities, flora, fauna and much more are unique throughout our tour. The highlights in short:
Quito's Historic Center (UNESCO World Heritage)
Indigenous market in Otavalo and surroundings
Mojanda Lagoons & National Park El Angel
Ecuador's famous mountain Cotopaxi & Crater lake Quilotoa
Adventure capital Baños de Agua Santa with its tree house and famous waterfall Pailón del Diablo
Island hopping on Galapagos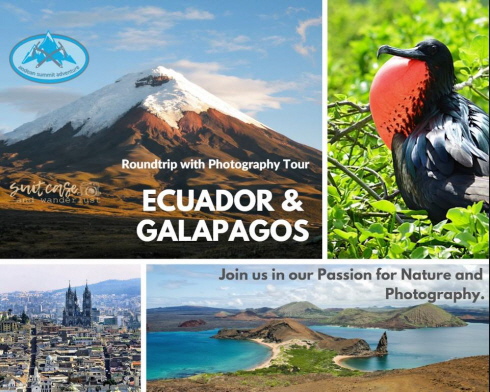 ---
Please find below the detailed itinerary for this Ecuador and Galapagos adventure. For download of the program as PDF, please click on this LINK.
---
Photography coach Nicola from suitcase and wanderlust, as well as Elisabeth, certified national guide of Ecuador and owner of andean summit adventure are very excited about this joint project and looking forward to welcoming you. Both are happy to answer all your questions to get your Ecuador and Galapagos adventure started.
You do not have 17 days? No problem, we can offer partial participation: 11 days on-continent round trip, 7 days Galapagos or 11 days Ecuador & Galapagos.
Get in touch for your individual solution to welcome you on this awesome trip.
Have a look at our detailed itinerary and let us know, what part of it is your favourite and we'll let you have your individual offer (2 examples below).
Epic Landscapes of Ecuador: Jan 28 - Feb 7, 2019
Price: from USD 2,590.-- (USD 380.-- single supplement)
Magic of Galapagos: Feb 7 - Feb 13, 2019
Price: from USD 3,440.-- (USD 290.-- single supplement)
Via Email, WhatsApp, Skype, call etc. - simply drop us a line and we'll get in touch with you to talk about further details.
Here a link to our contact form: LINK.