Welcome and enjoy our offers in:

español

deutsch

english or use our automatic translation tool:
---
2-DAY-CLIMB TUNGURAHUA (5.023 m / 16,480 ft)
---
Tungurahua is another interesting climb of a mountain with more than 5.000 m (16,000 ft) height. The tour is technically not difficult, but some acclimatization, endurance and fitness are required. Tungurahua is a perfect acclimatization tour, preparing oneself for Cotopaxi, Cayambe or Chimborazo. A very special thing about Tungurahua is, that the volcano is very active. The mountain has been reopened for climbing in September 2016. Climbs are only possible when the activity level is yellow or lower.
The tour can be arranged for any day (depending on activity level).
starting points & pick up:
Baños
DAY 1 - Tungurahua Refuge:
You will be picked up in the late morning / lunch time at our pick up point. Then we drive up to the park entrance at approx. 2.800 m (9,186 ft), from where our way follows a path through a humid cloud forest up to the refuge of Tungurahua on 3.800 m (12,467 ft) - this takes about 3 - 4 hours. As per your needs you can hire a donkey for transportation of your luggage.
DAY 2 - Summit Tungurahua:
Depending on group size and weather conditions we start the ascent to Tungurahua summit around 5 a.m. After 4 - 5 hours you will reach the summit. The descent to the park entrance takes another 4 - 5 hours. Especially the way down is hard, as we go for 2.200 m of vertical elevation loss on only 7,5 km. You will get back to the starting point in the afternoon.
our package includes:
- transportation
- ASEGUIM / UIAGM mountain guide
- park entrance fee
- accommodation
- food & beverage
upon request:
- climbing equipment, donkey
- download checklist for equipment
price:
Prices depend on group size and services included. Please contact us for your individual offer.
Or check our offers for fixed departures.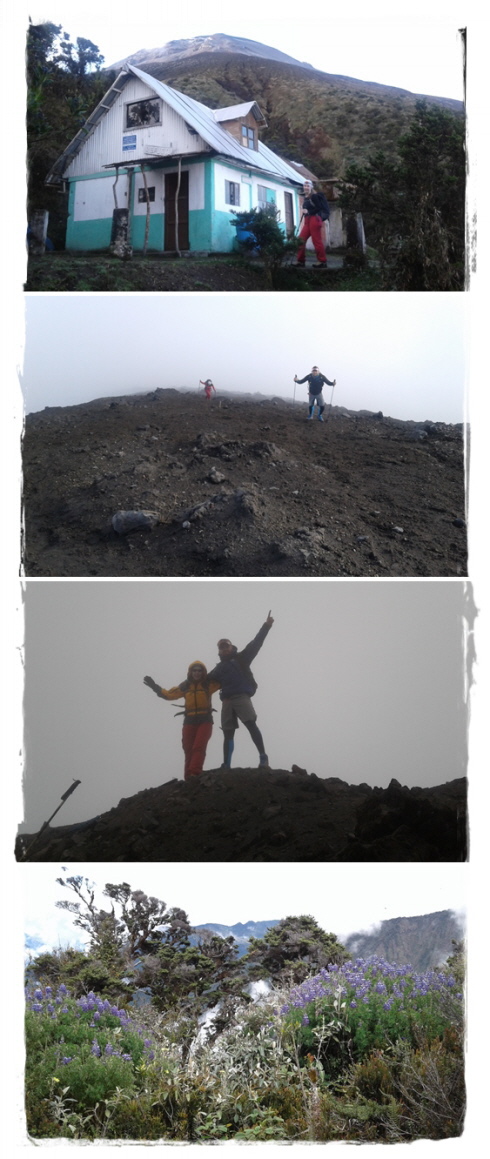 ---

---
Essential information about Tungurahua (5.023 m / 16,480 ft)
Tungurahua is one of the very active volcanos in Ecuador and therefore a bit tricky to schedule on the long term run. Please get in touch for detailed information.
History of Baños and Tungurahua
Tungurahua and Baños de Agua Santa are an inseparable couple. Being one of the biggest threats for the small city, at the same time it has become also a vital icon for it. In 1999 the volcano got active with a big eruption, due to which the whole city was evacuated. But only short time afterwards the inhabitants decided to come back and continue their life with the volcano. And both started to coexist in a harmonic symbiosis. The active volcano soon turned into one of the mayor tourist attractions of the country and Baños the place to be for all the tourists. This still is an important fact for the economic base of Baños. In 2006 there was another mayor eruption and since then there have been periodically smaller eruptive periods, which always attract many visitors in order to see the spectacle of lava coming out of the crater and flowing down the volcano.
In September 2016 the park was opened for the public again and climbing is possible if the activity level is moderate.
About the climb of Tungurahua
The climate in Baños is different, due to its proximity to the Amazonian region. As a result there is a lot of vegetation up to over 4.000 m (13,000 ft) and the air might be humid and hot, which can be quite demanding for a climber not used to the same. Once you reach the sandy slopes high up it will get quite windy (depending on season) and it can be really cold. Getting higher and higher you will notice smoke coming out in between the rocks and you might feel differences in temperature caused as a result of internal processes. All in all a very varied and interesting climb, which is very recommendable.
It's also possible to do it as a 3-day-version with an additional night at a community on approx. 2.600 m (8,530 ft) and walking up directly from Baños.
In anyway, come prepared for walking through different climates as well as a mix of hot, humid, wet, cold and windy conditions in only 1 climb. In case we have snow on the mountain, we migth even need crampons and ice axes.
---