Welcome and enjoy our offers in:

español

deutsch

english or use our automatic translation tool:
---
2-DAY-CLIMB ILINIZA NORTE (5.126 m / 16,818 ft)
---
Iliniza Norte is one of the easier mountains with more than 5.000 m height. The tour is technically not difficult, but some acclimatization and fitness are required. Iliniza Norte is a perfect acclimatization tour, preparing oneself for Cotopaxi or Chimborazo.
The tour can be arranged for any day.
starting points & pick up:
Baños, Riobamba, Ambato, Machachi or Quito
DAY 1 - Refuge Nuevos Horizontes:
You will be picked up in the morning at one of our pick up points. Then we drive up to the parking area La Virgen (approx. 3.950 m / 12,959 ft). Here starts the ascent to the Refugio Nuevos Horizontes (approx. 4.750 m / 15,584 ft), which takes approximately 3 - 4 hours. After an early dinner it is time for rest.
DAY 2 - Summit Iliniza Norte:
Depending on group size and weather conditions we start the ascent to Iliniza Norte around 4 a.m. After 3 - 4 hours you will reach the summit. The descent to the hut and back to the parking area takes another 3 - 4 hours. On the way back you will enjoy lunch in a restaurant and you will get back to the starting point in the afternoon.
our package includes:
- transportation
- ASEGUIM / UIAGM guide
- park entrance fee
- accommodation
- food & beverage
upon request:
- climbing equipment
- download checklist for equipment
price:
Prices depend on group size and services included. Please contact us for your individual offer.
Or check our offers for fixed departures.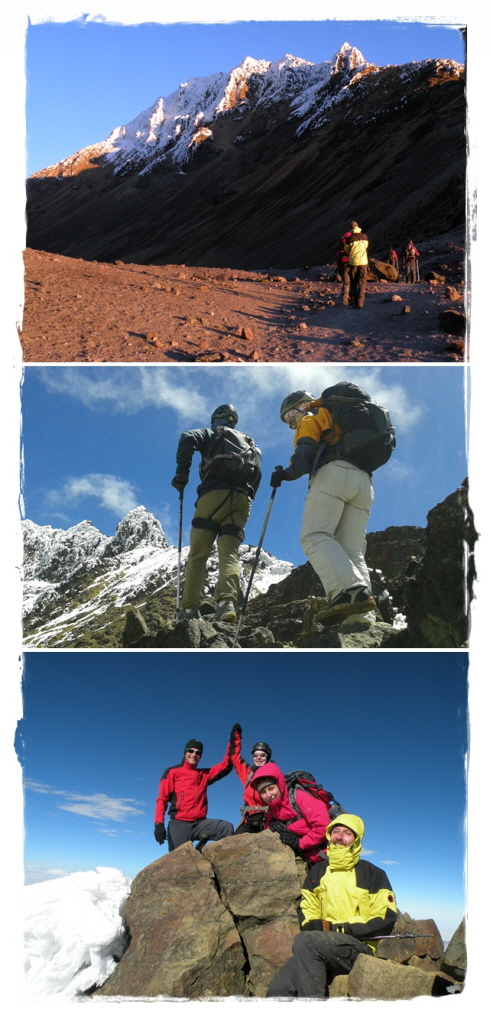 ---

---
Good to know about Iliniza Norte (5.126 m / 16,818 ft)
Iliniza Norte is a great deal if you want to achieve your first mountain with more than 5.000 m (16,400 ft), as it's technically not too difficult and usually ice-free. The tour is possible in one or two days. Being a mountain over 5.000 m (16,400 ft) also here applies the rule that you have to go with a mountain guide and the relation between climbers and guides has to be 2:1. Especially if the weather is not so good you will be more than happy to have a guide with you who knows about the mountain and the climate.
One-day-climb Iliniza Norte
For a one-day-climb you should be in good shape, as the total ascent is about 1.200 m (3,937 ft elevation gain) and that - reaching a height of more than 5 k - is already quite strenuous. A small disadvantage for the 1-day-climb are the opening hours of the park. Only at 8 am they open their doors, which is pretty late for starting the climb, as you still have to drive up to the parking lot and then get ready. Especially if the weather is good and you can enjoy a sunny day you have to take special care about hydrating yourself properly and of course with the use of sun screen.
Iliniza North + South - combi pack
A very interesting option for well-prepared mountaineers is the combination of both summits in just two days:
On day one you summit Iliniza Norte and spend the night on the refuge Nuevos Horizontes were you can rest and prepare yourself for the climb of Iliniza Sur which starts in the same night. Iliniza Sur is more demanding - check out our tour.
Epic video of Iliniza Norte Climb
Gene and Marcial, his Andean Summit Adventure Guide, summited Iliniza Norte in February 2018 with a drone (Mavic Pro) and produced this amazing video. Enjoy impressions of what your next Andean Summit Adventure could look like.
---
---