Welcome and enjoy our offers in:

español

deutsch

english or use our automatic translation tool:
---
2-DAY-CLIMB COTOPAXI (5.897 m / 19,347 ft)
---
RE-OPENED FOR ASCENTS TO THE SUMMIT ON OCTOBER 4, 2017
Cotopaxi is Ecuador's second highest mountain and the most popular to be climbed. Further it is one of the highest active volcanoes in the world. The tour is technically not difficult, but good acclimatization and fitness are required.
The tour can be arranged for any day.
starting points & pick up:
Baños, Riobamba, Ambato, Machachi or Quito
DAY 1 - Refugio José Ribas:
You will be picked up in the morning at one of our pick up points. Then we drive up to the parking area in the Cotopaxi National Park (approx. 4.600 m - 15,092 ft). Here starts the ascent to the Refugio José Ribas (approx. 4.800 m - 15,748 ft), which takes approximately 50 minutes. The afternoon is reserved for glacier training with your guide. After an early dinner it is time for rest.
DAY 2 - Cotpaxi Summit:
Depending on group size and weather conditions we start the ascent to Cotopaxi around midnight. After 6 - 7 hours you will reach the summit, where you can admire the impressive crater. The descent to the hut takes another 3 hours. On the way back you will enjoy lunch in a restaurant and you will get back to the starting point in the afternoon.
our package includes:
- transportation
- ASEGUIM / UIAGM mountain guide
- park entrance fee
- accommodation
- food & beverage
upon request:
- climbing equipment
- download checklist for equipment
price:
Prices depend on group size and services included. Please contact us for your individual offer.
Or check our offers for fixed departures.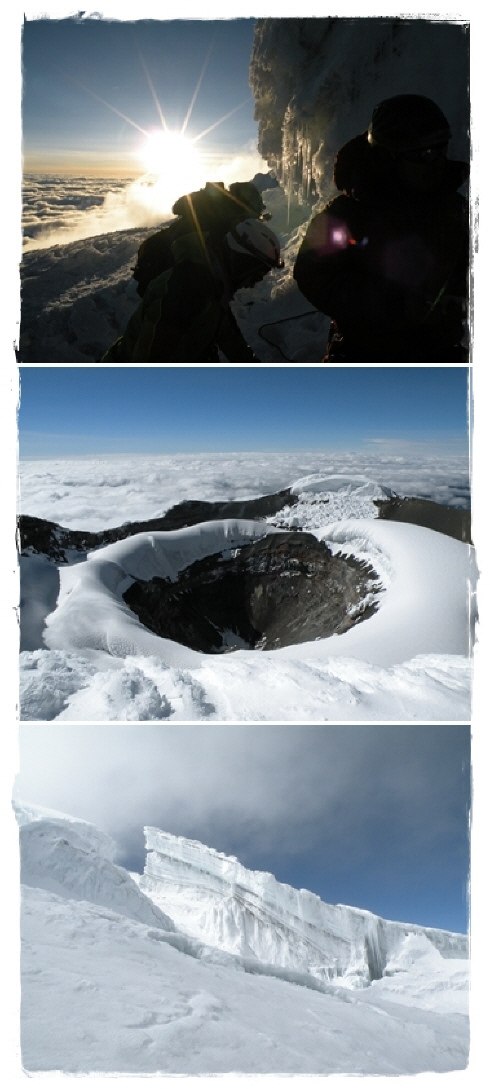 ---

---
Interesting facts about Cotopaxi
Cotopaxi is situated in the south of Quito and northeast of Latacunga. The province "Cotopaxi" is named after the volcano. The last big eruption took place in 1877. Since 2003 the activity of the volcano has been constantly rising and since August 2015 Cotopaxi has been closed due to activity and a light eruptive process. Climbs therefore have been prohibited until October 4, 2017. Cotopaxi is now reopened for climbing.
Cotopaxi National Park is a protected area and one of the most important touristic attractions of Ecuador. Visitors can enjoy wildlife down at laguna Limpiopungo and the near surroundings. A path leads from the parking lot to the refuge and further to the glacier of Cotopaxi, daily hundreds of visitors frequented the area while Cotopaxi was still open.
The refuge José Ribas has been completely reconstructed - just in 2015 it opened its doors after a long period with work in progress.
Cotopaxi National Park is also home of 2 other volcanos: Rumiñahui (4.722 m - 15,492 ft) and Sincholagua (4.919 m - 16,138 ft), both are nice acclimatization hikes which you can find in our acclimatization section.
As per current regulations mountains over 5.000 m (16,400 ft) can only be climbed with a professional mountain guide, and the maximum number of clients per guide is 2. Due to fatal accidents in the past the ministry of tourism and the ministry of environment have worked out this regulations, same which are controlled at all park entry points. We work together with highly qualified ASEGUIM / UIAGM mountain guides to assure your safety and success on the mountain.
Tambopaxi Mountain Lodge in Cotopaxi National Park
A perfect spot for acclimatization and also great for enjoying marvellous views of Cotopaxi is the Mountain Lodge Tambopaxi in the heart of Cotopaxi National Park. Below video shows 2 hours of rolling clouds in the volcanic plain compressed into 42 seconds at Tambopaxi. Many thanks for sharing it Gene!
---
---